Welcome to FAN, where in this article, I discuss how I would've booked WWE from the Royal Rumble through WM30 and all the way to WM31. Now I'm not doing all midcard and lower card feuds, as that's take too much time, so I'm focusing only on the main event.
To start, let's rewrite the Royal Rumble. Batista will still do his return, and Roman Reigns will have a good showing (not break the record), but the differences are that Bryan is in the rumble and thrown out by a prominent heel, in this case The Shield, and Kofi Kingston is the winner.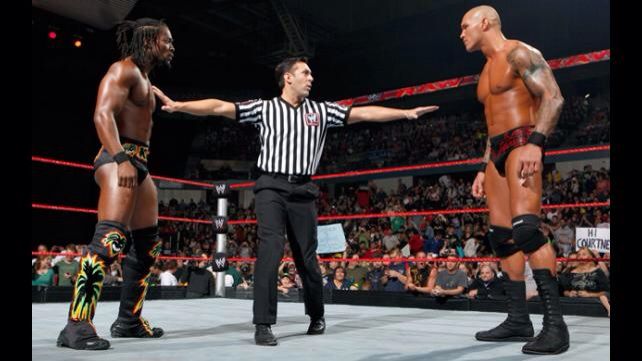 As Randy Orton is WWE Champion, Kofi will reignite their 2009 feud and bring up the finer points of it to place some historic perspective on their match. The New Day will still have an alliance, except they'll be a more serious team as how they were first portrayed, without the gyrating, dancing, unicorns, and everything else. At the same time, other Wrestlemania feuds will begin underway. Such as…
Batista vs. Lesnar. Batista will claim that he came back for a reason, to prove that the Animal is better than the Beast Incarnate. Lesnar will be up for the challenge, and two of the biggest stars never to meet, get to have a match.
The Wyatts vs. The Shield. They simply continue their feud through Elimination Chamber and try to maintain the magic.
Undertaker vs. John Cena. A match that fans have wanted for a long time, as Cena tries to defeat the streak.
Daniel Bryan vs. HHH, Daniel Bryan faces the head of the Authority with his Yes! Movement behind him, with a future title shot on the line.
At Wrestlemania, the following people win: Kofi, Lesnar, The Shield, Undertaker, Daniel Bryan, Big E in a random high profile match where he looks strong.
The next pay-per-view, Kofi will defend his newly won title against Daniel Bryan and Randy Orton in a triple threat match. Batista and HHH will try to help Orton win, beating down Bryan and trying to beat down Kofi, but Big E and Xavier will step in to help Kofi as Evolution vs. the New Day is teased. Because of their insubordination, HHH has the Shield go after them.
The New Day loses the initial 3v3 match on Raw, but win 2v2 with Big E and Xavier beating Rollins and Ambrose after a distraction of Kofi hitting Roman Reigns with the Trouble in Paradise. To see who faces who at the pay-per-view, the Shield will draw straws and Rollins will win. Thus it's Rollins vs. Kofi, Ambrose vs. Big E, and Xavier vs. Roman Reigns. Kofi retains his title, Big E wins a hard fault match where Ambrose uses lots of weapons and takes 2 finishers to defeat, and Xavier loses pretty easily to Roman Reigns.
The next day, Big E and Roman Reigns come face to face as Ambrose wants the next title shot. He faces Kofi and Kofi is winning when Evolution crashes the party to start their feud.
Xavier and Big E lose to Orton and Batista with Xavier being their weak link, and next week, Big E will call out Batista for a stare down as Kofi calls out Orton. Kofi will beat Orton to retain his title and HHH will attack from behind. This causes Kofi to call out HHH next show and they brawl with Orton and Batista helping HHH, and Big E and Xavier helping Kofi. Big E will take on Batista in a back-and-forth, and Orton will beat down Xavier so him and HHH can double team Kofi.
At the next pay-per-view (Payback), Big E beats Batista in a close fight, Orton beats Xavier in a surprisingly close match, and Kofi beats HHH. During their match, Orton interferes, Kane interferes, and the Shield shows up. Everyone thinks they're against Kofi, when they beat down Orton and Kane, securing Kofi the win.
Because of their help, the Shield want their title shots that Evolution stole from them, and the New Day/Kofi grants it to them.
Ambrose will face Kofi, and Kofi will win, and Reigns will get his title shot by beating Kofi in a non-title match on Raw.
At Money in the Bank, Big E will beat Seth Rollins, while Reigns takes the belt from Kofi, and Bray Wyatt wins the Money in the Bank Contract, allowing him to cash in at any time. Evolution will come back and fight the Shield, alongside Kane, leading to Roman Reigns vs. Randy Orton for the title at Battleground (pay-per-view). At the same time, Big E will beat Kane and HHH will beat Xavier, while Kofi and Daniel Bryan face off as Bryan wants to get another title shot. Kofi will win.
The Evolution-New Day feud continues after Bryan is beaten, but with Roman Reigns having the title, the Shield is also involved. At Summerslam, Roman Reigns takes on HHH and Big E takes on Orton as Kofi faces Batista. Roman will retain his title, and Big E will defeat Orton, with Kofi losing to Batista due to Batista having too much power for him. After HHH's loss, he'll have Kane revive his masked persona to weaken Roman Reigns, but before he can take advantage, Big E will attack him.
At Night of Champions, Masked Kane will have a close match with Reigns and will take tons of punishment to get pinned. Big E will beat HHH and claim himself Number One Contender. The next show, Big E will claim him and Reigns have unfinished business and Roman will agree and grant him his title shot. In the mean time, Kofi tries to redeem himself from his loss to Batista and will challenge Brock Lesnar to beat someone Batista couldn't.
At Hell in a Cell, Big E will defeat Roman Reigns just barely, as Lesnar beats Kofi Kingston. Roman wants his rematch and Lesnar wants a title shot, but Randy Orton steps up and says he deserves it first. Heyman will point out that Orton also had his chance and lost, and Orton will RKO him and run away. Randy will play cat and mouse with Lesnar, attacking and running away, and even RKOing Lesnar, all the way up to the pay-per-view, as the New Day and Shield go to war for their two members that are competing for the belt.
At Survivor Series, Big E beats Reigns in an even closer match as Orton beats Lesnar with a F5 into an RKO reversal and a punt to follow. Orton will brag about it the next night on Raw and Heyman will warn him that he's angered the beast. The next Raw, Lesnar will destroy Orton backstage, hospitalizing him, and Heyman will declare that he's coming for Big E and the title next.
At TLC, Big E will beat Lesnar barely, overpowering him much to his surprise. The next night on Raw, Big E will declare that he has no contenders left and is thinking about entering the Royal Rumble. This gets his teammates attention as Kofi asks 'what about us', more or less. Xavier will step in and say that Kofi had his shot, but Xavier never got his. They'll face in a match and Xavier will outsmart Kofi by almost getting him counted out and then rolling him up, to win his title shot.
At Royal Rumble, it's Big E vs. Xavier, with Big E winning a well-fought match. Right then, Bray Wyatt will teleport in with the Wyatt Family and beat down Big E, before cashing in his Money in the Bank. Big E will enter the Royal Rumble and be eliminated by mistake by Kofi, causing beef.
In the following weeks, Big E doesn't speak to Kofi or help him in their matches, as Xavier tries to make peace. They finally make peace the day before Fastlane. Also, Bray Wyatt calls out Undertaker, wanting to end his streak and prove himself the superior power. At Fastlane, The Rock returns for a title match, facing Bray Wyatt, and is beat down much of the match. He wins however when Undertaker interferes, responding to Wyatt's threats and insults. At the same time, The Shield faces the New Day, with the Shield winning after Big E betrays Kofi.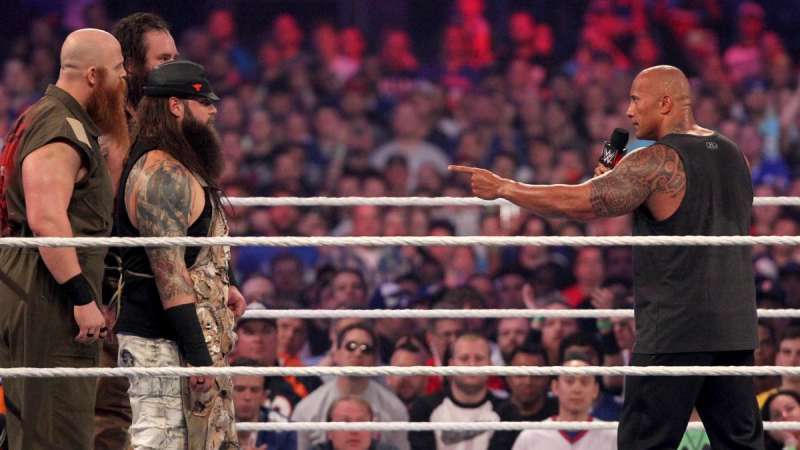 Big E and Kofi will brawl and fight with Xavier trying not to pick sides and trying to separate them, the next Raw. This will continue until Wrestlemania where they have a match. Taker will also appear and him and Wyatt will have words (as well as Taker taking out the Wyatt Family) during the build to Wrestlemania.
At Wrestlemania 31, Wyatt will beat Taker to end the streak, Roman Reigns will beat the Rock for the title, and Big E and Kofi will face with Kofi winning and both of them coming to an understanding as friends. Daniel Bryan will try to slay the Beast Incarnate and Orton will take on Batista.
This journey will produce new stars and keep powerful factions alive, while also protecting old stars.
So now in the main event, there's Big E, Roman Reigns, Kofi Kingston, and Bray Wyatt for new people. There's also still Undertaker, Brock Lesnar, Batista, HHH, Orton, and Daniel Bryan. Also the powerful factions of The New Day, The Shield, and The Wyatt Family with a possibility of Evolution, all exist and are active.
Copyright © WarWithWords 2017